All About Achilles Tendinitis
Overview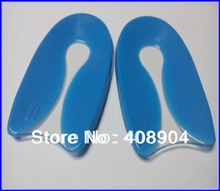 Achilles tendinitis is an inflammation of your Achilles tendon. It?s quite common in people who have psoriatic arthritis, reactive arthritis or ankylosing spondylitis. It can also occur as an over-use injury in people who take part in excessive exercise or exercise that they?re not used to.
Causes
In some cases, Achilles Tendinitis can be caused by physical activity without a proper warm up or trauma, such as falling, to cause an overstressing of the muscle and tendon. Other causes include repetitive overuse syndrome, such as a job that required frequent heel lifting. Biomechanical causes such as pronation (or fallen arches) will cause the heel (calcaneus) to lean slightly, putting the undue stress on the Achilles tendon and the calf muscles. Most pain can be felt at the back of the heel or the point at which the calf muscle becomes a tendon three quarters of the distance down from the knee. Discomfort can be felt especially when jumping or when lifting the heel off the ground. Swelling and redness can often be seen at the back of the heel and touching the area would cause a tender sensation. In extreme cases, the tendon can become torn or rupture entirely which would cause bruising or an inability to put pressure on the foot.
Symptoms
Symptoms of acute achilles tendonitis will be a gradual onset of achilles pain at the back of the ankle, just above the heel bone. This may develop over a period of days. The achilles tendon may be painful and stiff at the start of exercise and first thing in the morning. As the tendon warms up the pain will go often for it to return later in the day or towards the end of a prolonged training session. The tendon will be very tender on palpation or pressing in on the achilles tendon or squeezing it from the sides. Chronic achilles tendonitis may follow on from acute achilles tendonitis if it goes untreated or is not allowed sufficient rest. Chronic achilles tendonitis is a difficult condition to treat, particularly in older athletes who appear to suffer more often.
Diagnosis
Laboratory studies usually are not necessary in evaluating and diagnosing an Achilles tendon rupture or injury, although evaluation may help to rule out some of the other possibilities in the differential diagnosis. Imaging studies. Plain radiography: Radiographs are more useful for ruling out other injuries than for ruling in Achilles tendon ruptures. Ultrasonography: Ultrasonography of the leg and thigh can help to evaluate the possibility of deep venous thrombosis and also can be used to rule out a Baker cyst; in experienced hands, ultrasonography can identify a ruptured Achilles tendon or the signs of tendinosis. Magnetic resonance imaging (MRI): MRI can facilitate definitive diagnosis of a disrupted tendon and can be used to distinguish between paratenonitis, tendinosis, and bursitis.
Nonsurgical Treatment
Initial treatment of mild Achilles tendinitis involves rest, stretching exercises, and non-prescriptive medications to relieve pain and reduce inflammation. These medications include nonsteroidal anti-inflammatory drugs (NSAID) such as ibuprofen or naproxen. Relief of pain and swelling may be achieved with the application of ice for15 minutes at a time. Sleeping with the affected foot propped up on a pillow may also relieve swelling. Adequate time must be given to rest and recovery, meaning months or weeks, to prevent re-injury of the Achilles tendon. Most people make a full recovery and are able to return to their regular sports and exercise programs.
Surgical Treatment
If several months of more-conservative treatments don't work or if the tendon has torn, your doctor may suggest surgery to repair your Achilles tendon.
Prevention
Suggestions to reduce your risk of Achilles tendonitis include, incorporate stretching into your warm-up and cool-down routines, maintain an adequate level of fitness for your sport, avoid dramatic increases in sports training, if you experience pain in your Achilles tendon, rest the area. Trying to ?work through? the pain will only make your injury worse, wear good quality supportive shoes appropriate to your sport. If there is foot deformity or flattening, obtain orthoses, avoid wearing high heels on a regular basis. Maintaining your foot in a ?tiptoe? position shortens your calf muscles and reduces the flexibility of your Achilles tendon. An inflexible Achilles tendon is more susceptible to injury, maintain a normal healthy weight.